By Sinea Pies
Happy Monday! I am so excited to be co-hosting the Mom's Monday Mingle this week with Julie of The Naptime Review, Jessica of At Home Take 2 and the other lovely co-hosts. This is a great hop where you can meet lots of people, follow their blogs, like them, tweet them, pin them, you know the drill.
Easy to follow guidelines below.
Great way to make new friends and readers!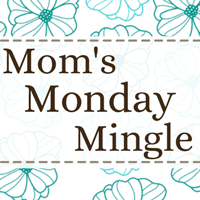 Please help spread the news on this growing hop!
Please tweet about this hop!
RULES:
1. Please follow each hostess (They are 1-6 in the link up)
My Life As Robins Wife- Co-Host
Confessions of a Redheaded Mama-Co-Host
Ducks n' a Row- Co-Host
Our Changing Nest- Co-Host
2. Leave a comment if you are new and want us to return the follow.
3. Grab the button and display it on your sidebar or link it to the post.
4. Have fun and meet new friends!