This is a Sponsored post written by me on behalf of White Cloud for SocialSpark. All opinions are 100% mine.
We all have heard of White Cloud bathroom tissue, right? Well, White Cloud has many other great products as well. They've just come out with a stain-fighting laundry detergent. Its 3 in 1 stain fighting power is touted as the best ever. White Cloud is so convinced of its effectiveness that they've challenged bloggers give it a try and write about it. The "Dare To Compare" challenge.
When I decided to take White Cloud up on the "Dare To Compare" stain removing challenge, my first thought was to pick an everyday stain that can happen to anyone. Ketchup! Yes, bright RED ketchup on my WHITE cotton blouse was the test.
As you can see in this photo, I gave my shirt a BIG squirt. Then, I did what we all would do if we got ketchup on our clothes—wiped it off with a napkin. So, now I had an ugly swatch of light red squished across the front of my blouse, which leaked through to the back of the shirt, as well. Double-trouble! I took my formerly white blouse to the laundry room and pretreated the stain (as per the directions.) To prevent my washing machine from bouncing around, unbalanced with just one shirt in, I also added my old white-ish hoodie and a dish towel.
"Tick tock Tick tock" The washer was set for warm water, normal wash cycle, single rinse. And? Voila! Perfect. Better than perfect! The stain was gone. The color of the shirt, and the companion hoodie, came out VERY white. Just as they said it would.
Now, for the scent. I was given the Blooming Lavender scent to try. Now, I am not big on scents but this was quite pleasant and not at all over-powering. I liked it. And where to FIND it? Your local Walmart Store Locator. Yes, this and a whole aray of White Cloud products is available at Walmart. Easy to find!
Bloggers, take up The Dare To Compare Challenge! Go to White Cloud's Facebook page and like it to get a coupon*. Try the challenge and write about it. Tell us what YOU think!
*Limit one coupon per purchase on product specified. No cash back if coupon value is higher than purchase price. Void if reproduced, transferred, used to purchase products for resale or where prohibited/regulated by law. Not valid on trial sizes. Consumer pays sales tax. Redeemable at participating retail stores. Valid only in the U.S.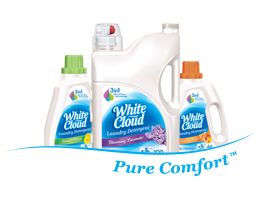 Like White Cloud on Facebook
Follow White Cloud on Twitter
Follow White Cloud on Pinterest
coupon